Roasted Parsnips
Parsnips 2lbs
Ingredients:
Olive Oil 1Tbsp
Salt 1/2 tsp
Pepper 1/4 tsp
Chicken Stock 1 cup
Butter 4 Tbsp
Garlic 2 cloves
Cut parsnips into sticks.  Toss to coat with olive oil, salt, and pepper.  Place in casserole dish and add chicken stock.  Cover and bake at 400F for 25 minutes.  Make garlic butter by combining butter with minced garlic.  Add garlic butter to parsnips and return to oven uncovered for 10 minutes.
We served them with roast chicken and mashed potatoes.
Fritatta
Fritattas, similar to quiches and omelets but (in my opinion) easier than either, can be made year-round with whatever add-ins you have on hand. Fritattas can be a meal unto themselves, but if you're feeling fancy, you can serve them with a crusty loaf of bread and a garden salad.
Makes one, 10-inch fritatta (3 or 4 servings).
Ingredients:
¼ cup vegetable oil (or olive oil, butter, bacon drippings, etc.)
1 medium onion (or shallots, leeks, etc.)
6 eggs
¼ cup finely grated parmesan cheese (or romano, asagio, etc.)
Salt, pepper, and herbs to taste
2 Tbsp. butter
1.5 cups mix-ins
Mix-ins
You can use practically any combination of veggies, meats, and even cheeses, but here are a few of my favorites:
Bacon, potato, & sweet pepper
Asparagus, potato, & goat cheese
Wild leek & asparagus
Method:
Prepare the mix-ins: scrub and thinly slice potatos, cut asparagus into roughly 1-inch pieces, cook bacon and break into bits, grate harder cheeses or crumble softer ones, dice peppers, etc. In a medium bowl, beat the eggs lightly. Slice the onion (or shallots, or…). Heat the vegetable oil (or olive oil, or…) in a heavy 10″ oven-safe fry-pan (I like to use a cast iron frying pan). Pre-fry the onions with the longer-cooking mix-ins (e.g. potatoes, carrots, beets, Jerusalem Artichokes), adding shorter-cooking mix-ins (e.g. peppers, green beans, peas) as the longer-cooking ones start to soften, and throwing in any greens and cooked meats just before the end so that they get warmed up a bit. Keep any cheeses aside for now. Add the salt, pepper, herbs, and about half of the parmesan cheese to the eggs; whisk to combine. Add any other cheese you're using, and your pre-fried mix-ins. Stir to combine, and set aside. Heat the butter in the fry-pan you just emptied, until the butter begins to foam. Pour the egg mixture into the hot fry-pan, and reduce the heat to low. Cook on low until the egg begins to look set, then preheat your broiler. Sprinkle the rest of the parmesan cheese on top of your mostly-cooked fritatta, then place it under the broiler just until the top begins to brown.
Shredded Beet Salad
A great recipe for both beet avoiders and beet lovers.
2 cups/ 500 ml beets (cooked, peeled and shredded)
1/2 cup/ 125 ml fresh parsley (chopped — optional)
3 Tbsp / 45 ml olive (or other) oil
3 Tbsp / 45 ml lemon juice
2 Tbsp / 30 ml onion (chopped)
1 Tbsp / 15 ml sugar
1/2 tsp / 2.5 ml salt
pepper to taste
Mix all ingredients together and chill.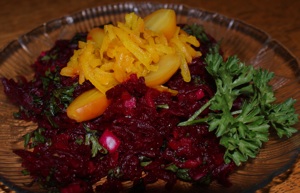 Spicy Carrot and Peanut Soup
Yields about 8 cups
1 tablespoon canola or other vegetable oil
1 large or 2 medium onions, thickly sliced (about 2 cups)
1 basket of carrots, thinly sliced*
¼ to 1 hot pepper, seeds and membranes removed, chopped
3 cups chicken or turkey broth (or substitute vegetable stock or water)
3 cups water
2 tablespoons peanut butter
3 tablespoons soy sauce
½ bunch of parsley
1 bunch sorrel roughly chopped
1 teaspoon salt
½ bunch of cilantro leaves (optional)
In a soup pot, sauté onion, carrots and hot pepper in oil until the carrots "sweat." Add the liquids, bring to a boil, and simmer. Mix peanut butter and soy sauce to a smooth paste. When carrots are very tender, stir in herbs, peanut butter mixture and salt. Cook 3-5 minutes, then pureé in batches in blender until you no longer see green bits whizzing by. Pour into a serving dish, and garnish with cilantro.
* To save time and nutrients, we don't peel our organically grown carrots. We just rinse them, cut off the ends, and cut or scrape off any spots we wouldn't want to eat. We usually slice the carrots using a food processor, so they'll cook through quickly, but when I'm preparing them by hand, I cut them into 3" long chunks. They just take longer to become very tender.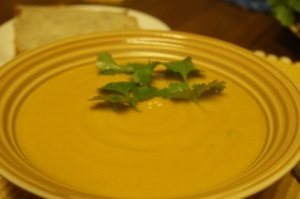 Butternut Squash Soup
1 onion chopped
2 cloves garlic crushed
2 Tbsp. olive oil
2 leaves fresh sage
½ bunch parsley
2 medium tomatoes
1 tsp. salt
½ tsp. pepper
¼ tsp. cardamom
1 medium butternut squash, peeled and diced
4 cups chicken broth
Optional ½ tsp. cinnamon and 1/8 tsp. cayenne pepper
Combine ingredients and cook over medium heat until squash is tender.
Purée in blender until smooth. Serve warm.
Serves four.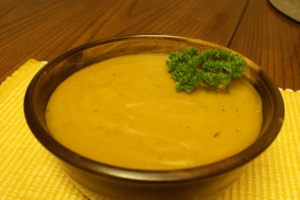 Kale and White Bean Soup
Ingredients:
½ bunch kale
2 onions
2 tbsp. vegetable oil
1 clove garlic
2 carrots
3 medium potatoes
6 cups water
3 cups cooked white beans
Three sage leaves
1 tsp. fresh thyme leaves
1 tsp. salt
½ tsp. black pepper
Method
Chop kale and onion, mince garlic, slice carrots and cube potatoes. Briefly cook onion in oil on medium heat. Add garlic and carrots and cook an additional 2 minutes. Add kale, potatoes, water, white beans, herbs, salt and pepper. Cook until potatoes are tender.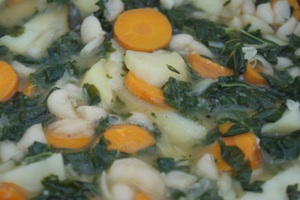 Lamb Chops
This is our farmhouse favourite preparation of lamb loin chops.  So simple, and always delicious!
Ingredients:
4 lamb chops
Olive Oil
Salt
Pepper
1 Onion, or Shallot, chopped
2 clove garlic, minced
Chicken Stock (about 1/2 cup)
Lemon Juice
Method
Rub both sides of chops with olive oil, salt, and pepper.   In a large skillet, fry over medium high heat 7 minutes per side for medium well chops.  Adjust time depending on your preferred doneness.  Remove chops to plate.
To pan, add onion or shallot, and garlic.  Fry 2 minutes then deglaze pan with chicken stock. Add a splash of lemon to finish the pan gravy.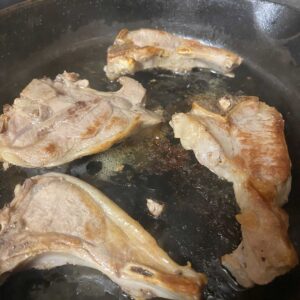 Spiced Pumpkin Soup
This is a great fall and winter soup with rich warm spicing. Capture the flavour of fall or chase away the chill of winter with a bowl of warm soup.
1 Pumpkin (baked)
2 Tbsp. oil
2 onions
2 cloves garlic
1 tsp cardamon
½ tsp ground ginger
¼ tsp cloves
½ bunch parsley
3 cups water
3 cups chicken stock
1 tsp salt
1 tsp black pepper.
Bake pumpkin at 350F until tender. Cool, scoop out flesh, and set aside.
In a 6 quart or larger stock pot fry onions and garlc until they soften slightly. Add remaining ingredients and cook for 10 to 15 minutes until all ingredients are quite soft and the flavours are well blended. Puree in blender. Serve warm. Optional: Top with sauteed shalots and garnish with parsley.
Roast Beets
6 cups beets, scrubbed or peeled, and cut in 1-inch pieces
2 Tbsp oil
1 tsp fresh thyme leaves
salt and pepper to taste
Mix all ingredients well. Pour into a casserole dish, and bake, uncovered, at 450°F for 75 minutes, stirring occasionally.
Vegetable Fried Rice
Ingredients:
1 cup chopped seasonal vegetables (zucchini, carrots, beans, peas)
1/2 cup chopped fresh tomatoes
Cilantro (optional)
2 tbsp oil
2 eggs
2 cups cooked rice
2 tbsp Tamari
Method:
Heat oil in pan. Add chopped vegetables and cook briefly. Pull vegetables to one side of pan and add the eggs to the other side. As the eggs begin to solidify, break up the mass and mix with the vegetables. Add the rice and tamari and fry briefly. Serve with chopped fresh tomatoes and optional cilantro.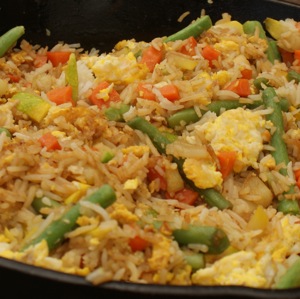 Herb Vinaigrette
Fresh herbs (basil, oregano, chives, tarragon, etc.)
Olive oil. Red wine vinagre, white wine vinagre, or cider vinagre. Salt and pepper to taste.
Finely chop herbs. Combine all ingredients in a bottle. Use somewhere between equal quantities of vinagre and oil, and twice as much vinagre as oil, to taste. Shake well before using.